Commercial buildings and outdoor concrete surfaces such as parking lots and walkways take a real beating from dirt, grime, oil, grease, gum and pollution. Without a professional cleaning and maintenance program in place, your once brand new commercial property can take on a dirty, run-down appearance that is not good for business.
Perfect Power wash can keep your property looking like new! The combination of our professional cleaning expertise and modern pressure washing and surface cleaning equipment consistently deliver outstanding commercial exterior cleaning results for all types of business properties.
We clean and maintain a variety of commercial properties, including: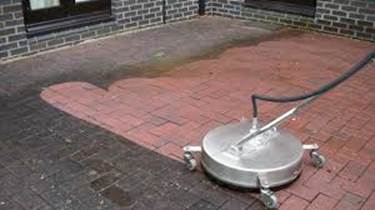 Shopping Centers and Strip Malls
Restaurants, Banks and Churches
Retail Stores and Storefronts
Office Buildings
Gas and Service Stations
Apartments and Condominiums
Our commercial power washing services include:
Building Washing
Concrete Cleaning
Parking Lot Cleaning
Chewing Gum Removal
Roof Cleaning & more!
Many homeowners waste thousands to fix this problem:
Black streaks & green moss on your shingle roof look awful! This is actually an Algae growth called Gloeocapsa Magma. It eats the limestone filler in your roof shingles, absorbs moisture, prevents the shingles from drying, and drastically shortens the lifespan of your roof!
Perfect Power Wash can make your roof look new again.
Our exclusive Low Pressure Soft Wash Roof Cleaning process begins with an application of Algaecide to the roof, killing and neutralizing the unsightly algae. Then a second application ensures it is 100% eliminated. Each application contains a special additive to inhibit future growth and keep your roof looking newer, longer.
Roof Cleaning is just a fraction of roof replacement cost! Do not make the costly mistake of thinking premature roof replacement is the only way to restore your home's beauty. The roof cleaning pros at Perfect Power Wash can restore your home's shingle roof to a like new condition and appearance for far less than the cost of a brand new roof!
Call (479) 755-7058 for your FREE Instant Quote!
Fence & Deck Treatment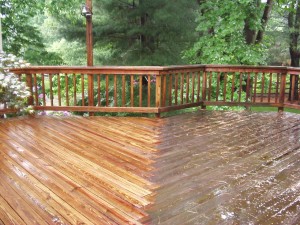 Contractor-grade commercial wood stains and sealers. Deep penetrating, modified oil formula ensures superior results every time in just one application with No Back Brushing. Great for: Fences, Decks, Playground Equipment, Gazebos and more. For a streak-free professional finish for your project, choose Wood Defender®. Since 1952, contractors have trusted Standard Paints for VOC compliant and environmentally friendly products.
Standard Paints, Inc. offers three oil-based products in the Wood Defender® line.
Transparent Fence Stain
Semi-Transparent Fence Stain
Transparent Deck Stain
Each of these products is formulated for a specific application and incorporates the latest technology and finest raw materials available, giving them unparalleled performance for their suited application. They are each manufactured with stringent quality control to guarantee consistent performance.
Semi-Transparent Fence Stain
This fence stain is a unique product utilizing opaque pigments which offer unparalleled ultra-violet protection while still allowing wood grain to be visible. Product is backed by a three year warranty.
Transparent Fence Stain
This product has a customized formula designed with finely ground trans-oxide pigments allowing all wood grain to be visible while also providing excellent U.V. protection. The transparent fence stain supports a two year warranty.
Transparent Deck Stain
A specialized blend of natural oils coupled with silicone to provide superior protection on horizontal surfaces. Product also supports a two year warranty. By saturating the surface of the lumber, the Wood Defender® product penetrates into the substrate leaving the deck with an even, uni-form coating. The average life of Wood Defender stains on a properly treated project is 2-3 years.